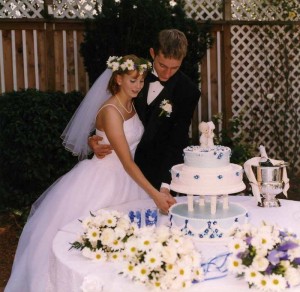 I joked to my husband yesterday that we are definitely in that stage of our lives together (again, although this time it is my turn).
On that day so long ago, I still believed that I would live to be 120. I still believed that we would be together until then. I had dreams, hopes, and realities that were often better than I would have imagined and often more trying than expected. I don't know any couple that wouldn't say the same, but I always felt there was magic to be found – together.
And so we did. However…
Sometimes I just want to scream that we are too young to be experiencing these life altering health issues, but there are too many suffering for me to think my own problems are worse than anyone else's. I don't like to get into too many personal details here, I just know that for now I have to focus on it and new articles and even giveaways will be coming, but if there are momentary breaks, you will know why.
I also know that the vast majority of illnesses are due to diet, environment, and what we put on our bodies. The frustrating thing is that we must all band together to change this world we are living in and growing our children in. Will you join me?
Take my brief survey and share your thoughts on what you would love to see featured here. One lucky person will win a gift card (likely Whole Foods, but I also want to be sure there is one near the winner). The more that enter, the greater the amount, so tell your friends. ;) Open internationally to readers of this blog and those interested in learning more about green and natural living through the end of January.