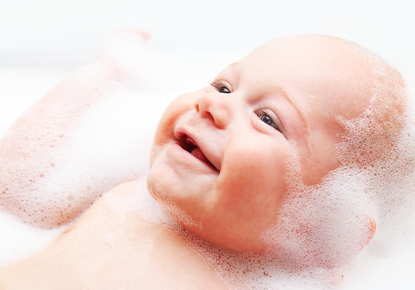 The University of Washington recently published a study in the February issue of the journal Pediatrics, suggests that babies are exposed to a potentially harmful level of phthalates from baby care products.
While phthalates are found in many items we use and consume every day, our children are much more susceptible to them through higher levels of exposure. Baby lotions, powders, and shampoos are just a few products which contain phthalates. The study shows that the amount of phthalates found in the babies tested increased when all three products were used and more significant in those under 8 months.
What Are Phthalates?
Phthalates, also called plasticizers, are used to make plastics flexible, stronger, or to bind.
Where Are Phthalates Found:
Nearly all soft PVC products.
Anything that has a "new car smell" or smells strongly of plastic.
In fragrance.
Coatings of drugs and vitamins.
Commercial food wrap.
Plastics with recycling codes 3 and 7.
Why Is This Study Important?
New evidence is emerging all the time about the harmful effects of phthalates, especially on young children, and boys in particular. Studies show that exposure to phthalates can adversely affect human male reproductive function and abnormal reproductive hormone levels, particularly if the exposure begins early. Some new research shows that there is a strong link to liver cancer and birth defects.
They have become virtually ubiquitous in all kinds of products and most of the time we never know it. Phthalates are also typically hidden ingredients in artificial fragrances, so label reading doesn't always help
It is outrageous to me that a very similar article published in June of 2003. It took nearly five years for it to become media worthy. It only proves that we have to be our children's best advocates. We can't take for granted that large corporations or the government are always looking out for our baby's safety and well-being.
Do your research and shop wisely!