A friend of ours lives on a great farm and invited us to go do some organic blueberry picking last week. The two little ones can never get enough of blueberries and I knew that they would love to pick their own. To my surprise we even convinced my 6 year old to give the a try and he liked them! Of course, now he says that the only good blueberries are the ones straight off the bush. How can I argue with that?
I can remember going to my aunt and uncle's home "in the country" and picking cherries right off the tree. They were the only ones I liked. I knew that they were so much better than store bought. I love that my kids are realizing that too. I am just tempted by the idea of living somewhere where we can really grow more and more of our food. I suppose that is where organic csas and farmers markets come in.
We aren't serious berry pickers yet, using sand buckets and Halloween pails.
I think baby girl ate as many as she put in her little pail. We called her little Sal.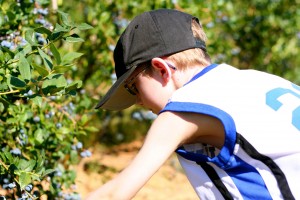 Loving the berries off the bush.
Don't they just look like perfection?
And warm in the hand.
This is the life every little girl dreams of.
The flat we ended up taking home. All in all we had over 13 pounds of blueberries.
The all-important blueberry pizza we made with our bounty of blueberries. I found the recipe over at Fix Me A Snack. Slightly more of a snack, slightly less than dessert, it was yummy.
1 pound homemade pizza dough
1 large egg, beaten
1/2 cup plain Greek-style yogurt
Heaping 1/4 cup cream cheese
1 tablespoon honey
1 teaspoon minced lemon zest
1 tablespoon freshly squeezed lemon juice
1/2 teaspoon vanilla extract
1 cup fresh blueberries
For the recipe on what to do with all that yummy stuff, go check out the blueberry pizza post on Fix Me A Snack.
What is your favorite recipe for blueberries?